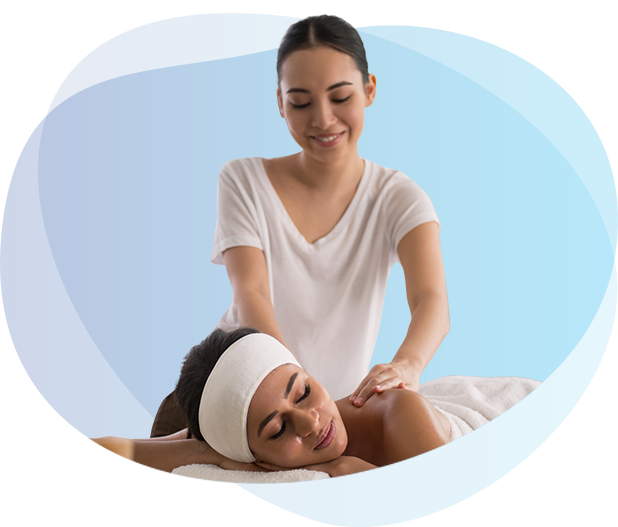 Benefits of Pre & Post Natal Massage
Our popular Javanese Pre-Natal Massage involves our massage therapist using every part of her hand to knead away and soothe your mind and body. Working on the deep tissues, our pre-natal massage reduces stress hormones in a mother's body and relaxes her muscles. It is important to increase blood circulation during pre-pregnancy to keep the lymphatic system conditioned at peak efficiency.
Allow us to gently knead away your muscle knots, and perhaps take away the fatigue from Insomnia, Joint pain, Leg cramping, swelling in certain parts of the body, headaches or migraines.
Our popular Javanese Post Natal Massage involves massaging the tired body with specially formulated herbs, Javanese-sourced massage oils and hot stones to improve circulation. It gently helps get the mummy's internal organs back into place and works wonders for breastfeeding.
This helps the body to swiftly return to the pre-pregnancy body shape and ensure restoration of the womb, to aid body slimming, and to provide good conditioning and strengthening of the body post-pregnancy.
It includes assisting with breast engorgement to clear milk ducts and to aid in the reduction of post-partum pain, swelling, lessening the appearance of stretch marks, lessening the appearance of cellulite as well as water retention, wind and muscular spasms.
Add On Services for Added Care
These are just some of the benefits of our Traditional Postnatal Massage. Hot stone abdomen compress (Tungku) is necessary for good blood circulation, removal of blood clot in the uterus, expelling wind and achieving relief from body bloated-ness.

V-Spa Ratus Àyu / Ganggang is a unique treatment following an ancient Javanese tradition that has been carried out since the Majapahit time.

A special body smoke is needed to cleanse the female genitalia, remove unpleasant odours and reduce vagina discharge.

This unique treatment of the vagina area improves blood circulation, relaxes the pelvic floor muscles so that the vaginal area becomes more tight and clean. It also helps to prevent and reduce white and excessive discharge, leaving it free from unpleasant odours and prevents irritation.

Whilst rejuvenating and tightening the intimate area, it also helps to prevent infection.
Recover & Rejuvenate
It's important to ensure your body recovers well during this period. A nice, relaxing and convenient treatment is only an enquiry away.
How to Book A Treatment?
Step 1

Drop Us An Enquiry

Let us know which Recovery Treatment you are keen on.

Step 2

We Will Contact You

We will share further on the benefits of the different Treatment and Massage Services we provide.

Step 3

Book and Confirm Schedule

Check our available slots and confirm your booking in an instance!
Got further questions?
Allow us to put your worries to rest.
Our FAQ section allows us to further answer your questions and provide our clients with the necessary, comprehensive information along their hiring journey.
Learn More
What Our Customers Say
We believe in providing the best service to people.
Let the testimony be our voice!
It was our first time hiring a helper and we were clueless. We were served by Seven (at AMK),he explained to us every single detailed properly and ensure we are not stress about anything. He even keep in touch with us after we had our helper to ensure we are coping well.
Shera Elza
In order to employ a domestic maid for my home, I went to AMK Branch Sales Manager Ng Di Shen (Seven). He carefully and thoroughly outlined the selection maid criteria. When we have faced any problem, he assists us extremely professionally by talking to the maid. He always stands with the owner's perspective to assist in problem-solving. After we have hired the maid, Mr. Seven is also a service Oriental to do the follow up with the maid performance. His office phone number is (655) 7703.
Donna Neo
A big thank you to Island Maid AMK branch consultant Shana for recommending Masiroh to our family. It has been almost 1.5 months since Masiroh joined us, and she has been a pleasure addition. A great help in the family with house chores and looking after my parents-in-law in their 80s. We feel reassured having Masiroh look after mother-in-law who needs to go for dialysis treatments, in our absence. Additionally, Shana has just helped us to hire another helper, Putri, to help my own elderly parents. She is just 4 days old at home, but proving herself to be reliable and a great help in the family too. Thank you Shana for taking the time and effort to understand our two families' needs and recommending Masiroh and Putri respectively. Regards, Joyce
Chong Yuen Tang
As a first timer getting a maid, I am extremely pleased with the prompt, efficient and friendly services by Islands Maids. Its manager, Joanne Lee, is very knowledgeable and proactive. She even dropped into my home after work at night to bring me papers to sign. She is responsive to queries with practical solutions on solving all the practicalities such as how to select a maid, opening bank account for maid and the necessary paper works with ministry of manpower. The maid is excellent in her works and attitudes. I would highly recommend Islands Maids to anyone who needs a maid. Cai Yiming. 7 November 2022
Cai Yiming
I would like to thank Peggie Tee @ Bedok branch, who is very helpful , responsive and patient to customers. I am very satisfying with her service as if without her helps I couldn't get a good helper in such a limit time. Hence, Island Maids Agency will always be my first choice & I will recommend Peggie Tee to my friends and family!!!
Hester Lim
Peggie from Bedok Branch was very helpful and offered constructive advice when I was urgently looking for a FDW for my parents. A good match was found within a few weeks despite the current shortage. Paperwork was seamless and handover was smooth. She also followed up to check on the FDW. My own helper was engaged through Island Maids 2.5 years ago and though it was from a different branch and staff, the service was equally professional and we found a good match as well. Have recommended a few friends and will continue to recommend Island Maids.
Bernadette Mark
Engaging this agency was a worry free experience ! My agent Heize guided me through the recruitment process, and I felt confident that I was in good hands. ! As a result I found the perfect helper. I like the fact that they take time with screening to match the helper with the employer. I highly recommend this Agency !
Odessa Chan
Heads up to Elise from Bedok Branch. She managed to handle my endless enquiry and request with lots of patience with an excellent customer service. I will definitely recommend you to look for her, as she is very genuine and has a great outgoing personality and will handle you with care. Smooth transaction and im happy with the maid that i have now. Thank you Elise and good job for the great work ??????????
Nurazira Zaid
I employed a domestic helper from Island Maids in August 2022. Elise at its Bedok branch made the whole experience very smooth. She responded promptly and professionally to all my questions and managed the paperwork efficiently. My family and I are very satisfied with the helper we got from Island Maids. Thank you Elise.
Audrey Ang
I would like to compliment Ms Heize service excellent and friendly helping me and family to select good maid. However attitudes towards customers was patience. Keep up good work! Much appreciated! Thank you so much! Looking forward for my new maid arrival to take care Mama..
Magdalene Goh
Extremely good service and prompt follow ups. Managed to get myself a good helper within a week's time! Highly recommended!
Enna Qiyin
Hi Zoe Wong(Ms), Thank you very much for your service and support provided throughout these few years. Your service render be it FDW return or new has been very smooth and very well managed! To us your knowledge, experience and support has always been swift, cool! Your close follow up and updates within your reach is prompt despite of the lean manpower resources during Covit-19 & early 2022. Kudos to You!! Your Customer service is superb! Appreciated!! If there is any FDW request from my friends, I will ensure it is you, Zoe!
An Kok
Thank you Jess from Island Maid Agency, she is very patient and helpful person, she also help to solve my urgent needs. Once again, many thanks!
Nego Ng
Very good helper agency. Zoe Wong ( our agent)is very helpful and professional. Her recommendation suits our requirements. And whenever we face any problem with the helper she's there to help. We thank her deeply, and like our new helper a lot!
Wendy Wu
I have great experience working with Island Maid. Zoe Wong has been a great help to find the helper. She is professional, always responsive and very resourceful. I would highly recommend Island Maid located at Jcube.
Joan Goh
View All Customer Reviews