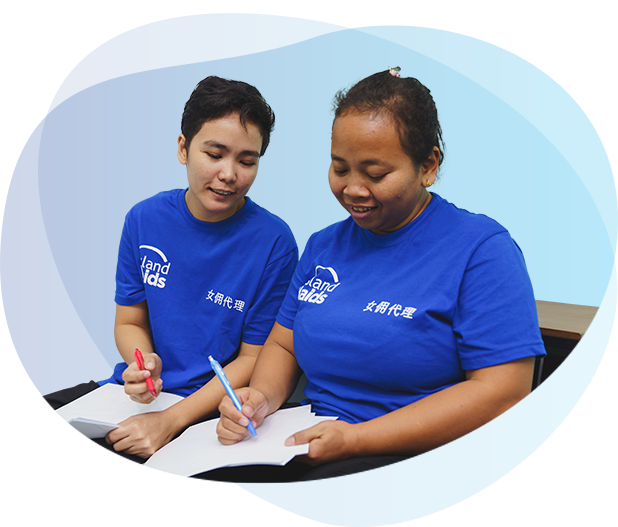 Communication Is Key
The biggest problem that most domestic employers face when hiring Maids in Singapore is the language barrier.
Most of the time, conflict happens when the maids misinterpret the instructions given by their employers. They end up doing the wrong things that causes frustrations and build up negative energy within the house. Very likely, this will also lead to the end of the employment relationship depending on which party raises the white flag first.
Communication is key. However, language takes time to master. Here, we teach the basic commonly used household languages. The goal is to ensure, simple instructions can be understood easily.
What does our Basic English Course cover?
Basic mannerism

Counting 1 to 100

Telling the time (morning, evening, night)

Introduction of family members

Around the house

Identifying body parts

Common instructions

Going through work schedules

Reading cooking receipes

Food & fruits
Who Should Attend?
Foreign Domestic Workers
Mode of Teaching
Classroom based lecture
Video presentation
Practical demonstration
Hands-on practice

Course Duration
7 Hours
Course Fee
$150
4 Key Benefits of Maid Training
More Confident Helpers

Equipped with better knowledge and skills, helpers are able to adapt better in their new roles.

Higher Employment Success

Helpers are better able to understand the local culture and expectations leading to lesser misunderstandings and greater tolerance.

Lesser Hiring Anxiety & Stress

Working on assisting the helper to adapt to her new environment reduces conflict, frustrations and ultimately reduces the need for termination.

Greater Hiring Savings

Investing in training has let to greater savings for employers as helpers are given the right guidance to succeed based on each of their unique work requirements.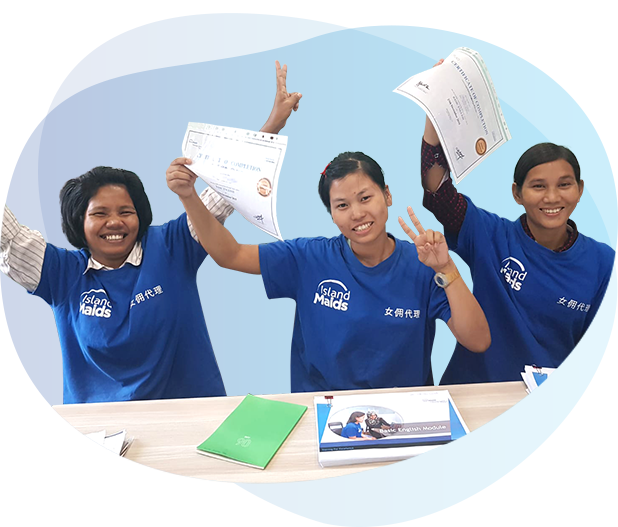 How To Register For A Basic English Course?
Step 1

Drop Us An Enquiry

Let us know your maid training requirements.

Step 2

We Will Contact You

We will respond within the day and advise you on the Basic English Course Modules.

Step 3

Book and Confirm Schedule

Latest training schedule will be shared and you can book your slot with ease.
Got further questions?
Allow us to put your worries to rest.
Our FAQ section allows us to further answer your questions and provide our clients with the necessary, comprehensive information along their hiring journey.
Learn More
What Our Customers Say
We believe in providing the best service to people.
Let the testimony be our voice!
Upon recommendation from my nephew who used Island Maids Agency, I went to their Bedok Branch and Siti Aminah attended to me on 29/8/23. Siti patiently listened to my request for a helper to help with caring of an elderly and helping with housework. She sent several profiles of suitable candidates matching my requirements. I found a suitable candidate from Myanmar and interviewed her on video the next day. I appreciated Siti's video call even though she was off duty. My Myanmar helper started work at my home on 15/9/23. She is pleasant and keen to learn how to use the gas cooker and electrical appliances with my guidance. Thank you Island Maids Agency for a wonderful professional service.
Janice Lim
I'm so pleased with my helper. Who is well trained and respectful. Thank you to Ina of Island Maids Bedok for all your help and the process was seamless. Am very pleased with your service and professionalism. Will definitely recommend.
Rima
A big thank you to Island Maids consultant Ms. Meris Hong (formerly from Tiong Bahru Branch). Now is with Hougang Branch. She is very patience, helpful and cheerful. Whenever we need her assistance , she responded promptly and timely . She works very hard in sourcing and selecting a suitable helper for us from Philippines. Several interviews have been conducted and the process has been very smooth. I got the helper within a short timeframe. Very much appreciated that. I will recommend Meris to my friends and my family members.
Katherine
I would like to thank Ms.Gni from Yishun branch for being most accommodating since day 1 in our search for a helper. She explains everything in a good manner. She also help us in every way that she can. I will highly recommend Ms.Gni to contact her incase you need a helper. She will help you all the way until the very end. Any problem she can handle well and she will treat u as your friend. Thank you Ms.Gni . All the best.
Sherie
I had lost confidence on my two maid agency after I met online conversation with ANDY HONG@ANG MO KIO He had a good listening ears and introduced me a TRANSFER MYANMAR MAID. Which always in my mind don't ever take a TRANSFER MAID……. Although only 8 days today I found she is hardworking, obedient, And she did follow my schedule on my housekeeping which I trained her. Thousand thanks to ANDY, he really do a follow up after a few days.?????? Which not like my previous agency service provided. ?????????????! Well Done ANDY!??????????????????
Grace Tan
After reading some online reviews, compared the price and package offered by some agencies, We decided to put our Trust and Faith in Gni from Yishun Branch Island Maids Agency to source for the maid to look after my Dad who has Slight Dementia. At first We have many worries and concerns especially being the 1st time hire a maid. Gni able to explain and clear our doubt and provided us with good tips, advise, guidance . She provides us a clear explanation and managed to get a maid to meet our needs such as within our budget, able and willing to care Dementia Dad. She manage to find us a Fresh Myanmar helper who can able to speak some simple Mandarin and English, not afraid dog, able to cook some meals and importantly willing to learn . Gni is very Genuine and Honest to attend to our needs and queries and explain the Pro and Con We will may encounter and what need to be aware . .She send us a sample to draw out our timetable so she can send to our helper to understand the duty better before coming to Singapore . The process was smooth thanks to their admin team . We managed to get the maid within 3wk which was quite fast from Myanmar. Gni also arrange for us, Free Training for our helper to attend their in-house training on GHW & Elderly care course for free and also help apply AIC - home base one to one face to face training for our helper . Before We collect our helper , Gni forward us her Tick Tok video sharing on some Important Tips on how We can handle fresh helper .We benefit a lot from her Tick Tok sharing .We also gain a lot of Knowledge and awareness on what Employer and helper can do & cant do and what to be careful and prevent in order to have a Good Relationship with our helper. Frankly speaking is an Eye opener for us . Especially We are first time hire . We are touch by Gni commitment ,her action and her Sincerity . Now our helper been with us coming to 1yr we have good relationship ??. Even after 1yr when We have some things, no sure or receive any letter from MOM which We dont understand . We text Gni . She always be there to response without Fail . We like her Professionalism ??. Thanks to Island maids and Gni from Yishun Branch for the Great experience. Although Island maids package is not the Cheaper??. With the First class Services??, We get from GNI but is Worth it?? . We are very lucky to have such dedicated and committed Agent to Serve us ??. Highly recommend Gni service to anyone else who need a helper ??.
xuelian
We would like to specially thanks to Gni Lam. We were very fortunate to have come across GNI. A friend highly recommended her to us, and we were deeply impressed by her professionalism, extensive experience, helpfulness, and efficiency. She perfectly and quickly helped us find a suitable helper. Whenever we needed her assistance, she responded promptly and resolved it timely. The costing terms were transparent throughout the process. As first-time employers looking for a helper, she provided us with valuable advice and shared her experiences, making the whole process feel seamless. Given the opportunity, I would highly recommend GNI Lam Yishun Branch to my friends and family.
Zheng Hanchen
View All Customer Reviews