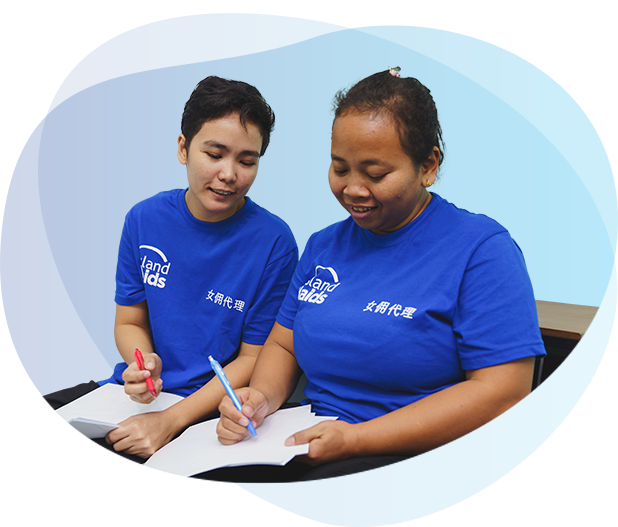 Communication Is Key
The biggest problem that most domestic employers face when hiring Maids in Singapore is the language barrier.
Most of the time, conflict happens when the maids misinterpret the instructions given by their employers. They end up doing the wrong things that causes frustrations and build up negative energy within the house. Very likely, this will also lead to the end of the employment relationship depending on which party raises the white flag first.
Communication is key. However, language takes time to master. Here, we teach the basic commonly used household languages. The goal is to ensure, simple instructions can be understood easily.
What does our Basic English Course cover?
Basic mannerism

Counting 1 to 100

Telling the time (morning, evening, night)

Introduction of family members

Around the house

Identifying body parts

Common instructions

Going through work schedules

Reading cooking receipes

Food & fruits
Who Should Attend?
Foreign Domestic Workers
Mode of Teaching
Classroom based lecture
Video presentation
Practical demonstration
Hands-on practice

Course Duration
7 Hours
Course Fee
$150
4 Key Benefits of Maid Training
More Confident Helpers

Equipped with better knowledge and skills, helpers are able to adapt better in their new roles.

Higher Employment Success

Helpers are better able to understand the local culture and expectations leading to lesser misunderstandings and greater tolerance.

Lesser Hiring Anxiety & Stress

Working on assisting the helper to adapt to her new environment reduces conflict, frustrations and ultimately reduces the need for termination.

Greater Hiring Savings

Investing in training has let to greater savings for employers as helpers are given the right guidance to succeed based on each of their unique work requirements.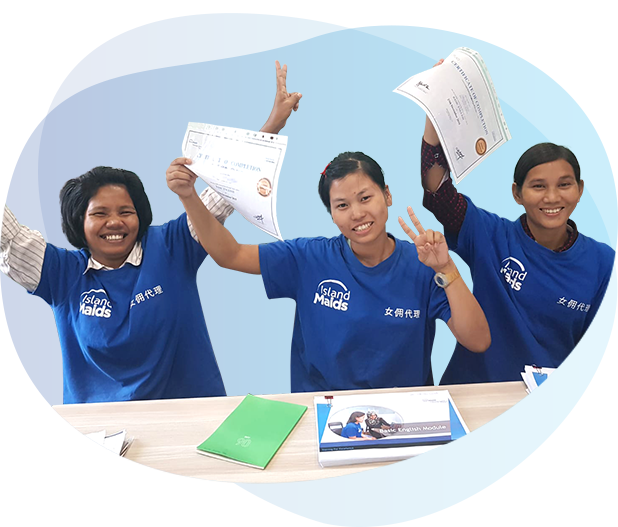 How To Register For A Basic English Course?
Step 1

Drop Us An Enquiry

Let us know your maid training requirements.

Step 2

We Will Contact You

We will respond within the day and advise you on the Basic English Course Modules.

Step 3

Book and Confirm Schedule

Latest training schedule will be shared and you can book your slot with ease.
Got further questions?
Allow us to put your worries to rest.
Our FAQ section allows us to further answer your questions and provide our clients with the necessary, comprehensive information along their hiring journey.
Learn More
What Our Customers Say
We believe in providing the best service to people.
Let the testimony be our voice!
Excellent service from Gni of Yishun branch! My dad has a helper that has some medical conditions, Gni has assisted us in the entire replacement process and found us a suitable replacement helper in a very tight period. She is very responsible and handle the case professionally even though maid replacement case come with no agent fee. Thank you so much Gni!
Toh York Yen
Hi I would like to give our sincere compliments to Gni from Island Maids in Yishun branch. While we are new in hiring helper, Gni made the process very smoothly and fuss free for us. She provides prompt and reliable advises to us, and we secured our preferred helper eventually. Throughout the hypercare period (the first 2 weeks), Gni provided great help in resolving minor conflicts / communication gaps with the helper. We are very happy with the helper selected as well as the service rendered by Gni.
Jacky Lee
It was our first time hiring a helper and we were clueless. We were served by Seven (at AMK),he explained to us every single detailed properly and ensure we are not stress about anything. He even keep in touch with us after we had our helper to ensure we are coping well.
Shera Elza
In order to employ a domestic maid for my home, I went to AMK Branch Sales Manager Ng Di Shen (Seven). He carefully and thoroughly outlined the selection maid criteria. When we have faced any problem, he assists us extremely professionally by talking to the maid. He always stands with the owner's perspective to assist in problem-solving. After we have hired the maid, Mr. Seven is also a service Oriental to do the follow up with the maid performance. His office phone number is (655) 7703.
Donna Neo
A big thank you to Island Maid AMK branch consultant Shana for recommending Masiroh to our family. It has been almost 1.5 months since Masiroh joined us, and she has been a pleasure addition. A great help in the family with house chores and looking after my parents-in-law in their 80s. We feel reassured having Masiroh look after mother-in-law who needs to go for dialysis treatments, in our absence. Additionally, Shana has just helped us to hire another helper, Putri, to help my own elderly parents. She is just 4 days old at home, but proving herself to be reliable and a great help in the family too. Thank you Shana for taking the time and effort to understand our two families' needs and recommending Masiroh and Putri respectively. Regards, Joyce
Chong Yuen Tang
View All Customer Reviews